I wrote a book….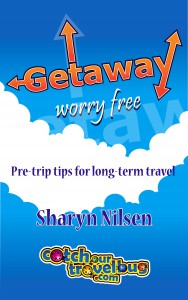 Hi all. Just wanted to let you all know that I finally got my act together and finished my ebook that I began on the plane over here to Ho Chi Minh City. Its called Get Away Worry Free: Pre-Trip Tips for Long-Term Travel
 and goes over all those issues you need to consider before packing your bags and heading off on a long journey.
The book is written from our experience of leaving Australia several times for multi-year adventures. Many of the issues are easy to overlook before you go but could really come back to bite you if they're not addressed. Subjects include planning for the trip itself, family issues, what to do with all your things, health issues, legals and banking and more. You can purchase it from any of the links above or the ad below.
Anyway, I hope it helps any of you who are considering taking the plunge and leaving to go travelling for more than just a short holiday. Please leave me your comments and suggestions about how I can improve the next edition below. If you do get a copy I'd really appreciate it if you left a review on Amazon.