There's more than enough to keep you and your family occupied for several days in Ho Chi Minh City. Below you'll find some of the more popular attractions in and around the centre. Most of them are quite close to each other so it's easy to visit most of them on a day tour. Choose a self guided walk or link up with a City Tour to take you around town by cyclo, motor bike or van. Urban Adventures run a great full day Ho Chi Minh Discovery Tour or a half day Cyclo and markets tour if you have less time.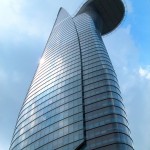 Bitexco Financial Tower – the tallest building in Ho Chi Minh City and home to the Saigon Skydeck, numerous dining options,shops, a cinema and the Heliobar on the 52nd floor.Swing by for the best view in town by day or night.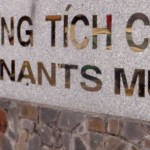 War Remnants Museum – Rated as the number 4 of 83 attractions in Ho Chi Minh City (by members of Tripadvisor), the War Remnants Museum remains as controversial as ever. Located centrally in District 3, at 28 Vo Van Tan Street, the museum is easy to incorporate on an easy day walking around Ho Chi Minh City. The museum is open from 7.30am – 12pm & 1.30-5pm every day including public holidays. Tickets are 15 000 VND (~75c)
Reunification Palace – The complex, once known as Independence Palace, spans a full city block and is now used as a museum. Full of history and effectively the site at which the Vietnam War ended, it is definitely worth a visit on any tour to Ho Chi Minh City. The Palace is open all the week from 7.30 AM to 11.30AM and 1.00PM to 5.00 PM. Entrance tickets are VND 20,000 (about $1). Guided tours in English are  available.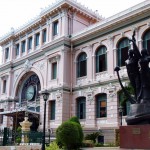 Saigon Central Post Office – A reminder of what post offices used to be like. The building was designed by Gustave Eiffel, the same guy who designed the Eiffel Tower in Paris. It's definitely worth a visit. There's plenty of history and atmosphere to soak up and more than enough picture opportunities for at least 10 minutes of your time. The building, is located at Number 2, Paris Commune Street, directly across the road from the beautiful Notre Dame Cathedral. It's open between 7am to 7pm weekdays and 7am to 6 pm weekends.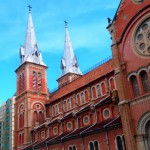 Nha Tho Duc Ba Saigon (Saigon Notre-Dame Cathedral Basilica) – The most important Roman Catholic church in Ho Chi Minh City, this beautiful building stands regally across from Saigon Central Post Office and just across 30-4 Park from Reunification Palace. It is officially open to visitors between the hours of 8am and 11am in the morning and 3pm and 4pm in the afternoons. You can also attend a church service on Sundays. The one at 9.30 am is conducted in english.The church is free to visit but of course donations are most welcome.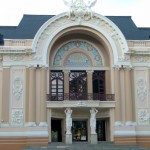 Municipal Theatre (Saigon Opera House) – This beautiful theatre sits on Lam Son Square at start of Le Loi Street. The surrounding area could be in one of Europe's finest cities were it not for the usual crazy traffic on the surrounding streets. It's proximity to other popular sites make it a logical stop on any walking tour around Ho Chi Minh City.  Whatever you do, don't miss at least getting one day and one night picture of the building. They will definitely be some of your finest from your visit to Ho Chi Minh City.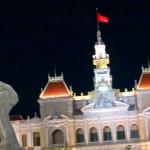 Ho Chi Minh City Hall – Unfortunately you can't go in, as the building is now headquarters of the Peoples Committee. This gorgeous building provides great pictures by night or day. Located right in the middle of many other colonial structures and at the start of the new pedestrian street, Saigon City Hall makes a logical stopping point on your walk around town.
Note: I do not receive any payment for this post (or any others on the site for that matter!). I do receive a small amount of money by allowing advertisements on the site and any purchases made through those links.