Blue River Hotel – Ho Chi Minh City
Editors Update April 2016: Pleased to say the Blue River is still going strong. The rooms are still good value and the staff, friendly and helpful.  We arrived early one morning, way before check-in time, with no reservation. Not surprisingly, all their rooms were  full. The team did everything in their power to make us comfortable and allocate us the next room available. When we wanted to extend five days later (at late notice), they were fully booked for a couple of days. Rather than just turn us out, they scouted the neighborhood (also very booked up) and found us a suitable room at another hotel. Really can't ask for better than that. My advice: Make a reservation before you get there!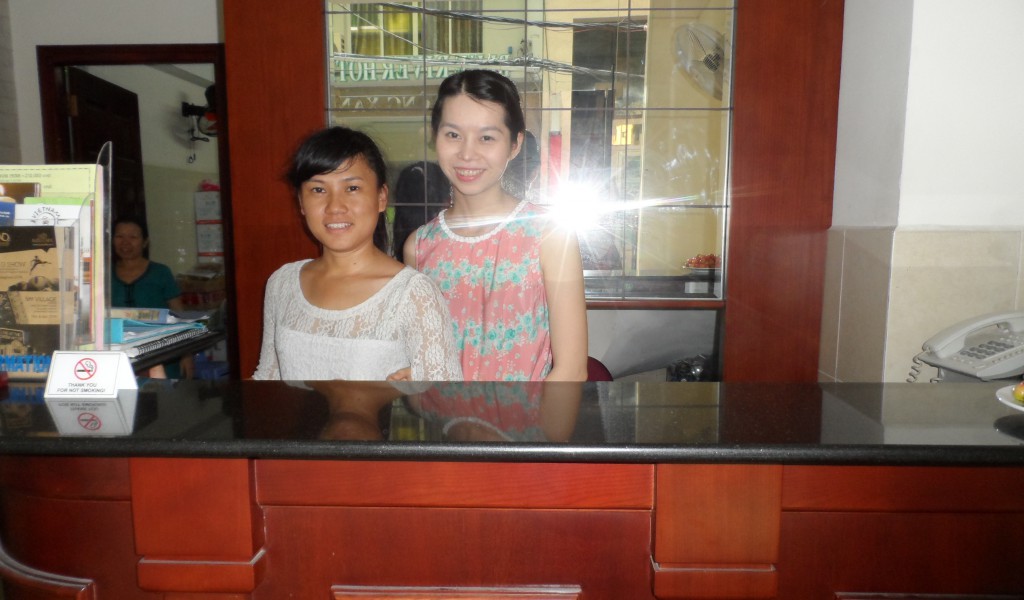 When we arrived back in Ho Chi Minh City, this time, we were lucky enough to be picked up at the airport and have five days of accommodation paid for us by my school. We want to take our time finding an apartment to live for the next 12 months.
We're familiar with the area in the lanes between Pham Ngu Lao and Bui Vien Streets. It was the logical place to started searching for a room big enough for us, our growing collection of school books and our electronic gear. To be quite honest, with two computers each, a printer, mobile phones and various other devices it looks like NASA Space Control when everything is set up.
While most of the rooms are nice enough for a couple of nights stay, most of them were too small to fit an extra desk so both of us could work. Still we both know that there are so many rooms in this part of town that we'd eventually find one that met our requirements.
Not too far into the search, we dropped into the Blue River Hotel. There are in fact 3 "Blue River Hotels" in the same lane running behind Pham Ngu Lao Street. They are all managed by the same group. We ended up in Blue River Hotel 3 (283/19 Pham Ngu Lao Street). The rooms are bright, white and scrupulously clean, and the deluxe (for $34/night) was more than big enough for us and all our gear. The receptionist at the time couldn't have been nicer, immediately offering a discount or $6/night if we stayed the promised two weeks. I do note that you can get the same discount by booking through Booking.com at the moment so maybe our bargaining skills weren't that great. Standard rooms start at $25/night. The prices at the other two vary slightly as do the sizes and age.
For a budget hotel, I can't recommend these guys highly enough. The staff are super friendly and helpful. Breakfast is included, and you can choose from eggs, pancakes or noodle soup. Juice, coffee, tea, and fruit round out a good start to the day. It's in a lane, so it's relatively quiet by Vietnamese standards yet still close to the action.
Interestingly enough Booking.com  and Agoda were the only search engines, out of about five, I just tried that came up with any of the Blue River properties.
We just moved out today to a small apartment two doors down for the next two weeks and then finding something a bit more permanent in the burbs. But we will be recommending Blue River to friends and family who come to visit.
UPDATE January 2015: My niece came to visit while we were away on TET holidays (Feb 2015). She stayed at the Blue River and reports that they are still fantastic.
Note: I do not receive any payment for this post (or any others on the site for that matter!). I do receive a small amount of money by allowing advertisements on the site and any purchases made through those links.