Christina's Saigon
SUPER NEWS! Since writing this post back in 2014, I've kept in contact with the guys from Christina's Saigon. They are genuine, kind and hospitable and, I like to hang out with folks like that. I've been extremely gratified to see my first impressions were right, and the Christina's brand is going from strength to strength. Supported by hundreds of 5-star reviews on Airbnb and word of mouth from delighted guests, they now have dozens of new rooms both in Saigon and other locations around Vietnam (Hoi An, Nha Trang and Danang with more on the way).  Because they are so popular and have so many rooms, you can now book directly through their website as well as Airbnb. If you're not a member yet, sign up through THIS LINK  to receive a bonus of around $20 USD off your first booking. Anyhow, you can read about my first impressions and subsequent follow-up below. I can assure you the service levels, attention to details and love for their guests hasn't waned one little bit. I anything, guest experiences at Christina's have become even better.
First impressions mean a lot to me…
It's not often that you walk into holiday accommodation and immediately feel at home. But that's what happened to me last week when I went to visit Christina's Saigon, a brand new accommodation option in downtown Ho Chi Minh City.
Christina's is a small apartment block in District 1 with a collection of studio apartments arranged around common areas. You might be asking yourself "what's so special about that?" There are a gazillion accommodation options in Ho Chi Minh City with something to suit everyone's budget and taste. That may well be, but Christina's has quite a few things that the vast majority of these don't. The owner's philosophy is "manufacturing joy by focussing on the little things in life, " and it shows in everything they do.
Even after a tour of the whole building and a looooong chat with Thu, one of the owners, it was hard for me to pigeonhole exactly what kind of accommodation Christina's is. After thinking long and hard, I've decided to describe it as flashpacker meets self-contained, serviced apartments meets guesthouse. It's definitely for travellers and perfect for those who are working on the road who don't want to be stuck in a soulless hotel. There's a backpacker vibe without the "cheapness, " and a luxury feel without the price tag or attitude.
Christina's is right in the thick of things but is still a haven of peace. The location is close to the major sights and business area but tucked away in a lane, off the major thoroughfare. It's about a 2-minute walk from a major shopping centre and cinema complex, less than ten minutes from the budget end of District 1 and a 20-minute walk to the ritzy end of town (or a 5-minute taxi or Xe Om ride). Perfect for getting out all day to experience all that Ho Chi Minh City has on offer, then coming home to mix with like minded travellers. When you've had enough of the social scene, retire to your sanctuary and unleash your creativity on your pics and writing. The workspace in the rooms is to die for.
The attention to detail in the rooms is astonishing for this price range ($35-45). Each room is beautifully appointed with sleek but comfortable furniture, sophisticated decor, and luxury linen. There is something unique about every one that not only gives it a name but almost its own personality. I was introduced to a Jade tree named Gerlinde and a bonsai named Klaus as residents of the different studios; there were also several pieces of quirky furniture.
Each room has a spacious ensuite where everything you need is provided, including toiletries. There's a small kitchenette with the basics, but all guests have access to a very well equipped central kitchen, living room, and laundry facilities. So you have a great personal space but lots of opportunity and encouragement to mix with the other guests. I find that's what's missing in the vast majority of accommodation in Vietnam.
The top level is a large roof terrace overlooking the surrounding area. It's still finding its personality but has a truckload of potential. I can just see BBQ parties becoming a regular event. The terrace takes full advantage of the bright light in the cool mornings and shade in the afternoon to provide a breezy venue for sundowners and night time entertaining.
Another cool feature is the honesty fridge. The guys stock each room with things they like to drink. They have a list with the price it costs them to buy the drinks and an "honesty" price that is marginally higher (but still cheaper than drinking out). All of that extra money goes directly to the cleaning staff. I think it's a very cool way to leave a tip for those of us who are never sure exactly how much that should be. It also gets around the irritating issue of overpriced mini bars, gives guests a choice and provides and incentive system for the local staff. It's a superb idea. Tim and I typically buy replacement drinks in the local supermarket if we use the mini-bar, but in this case, there's no need. However, there is a supermarket just around the corner if you want an alternative.
Not everyone can stay at Christina's. The property is only available* for bookings through Airbnb.  The guys want to have a say over who stays. Christina's is their pride and joy, and they want guests who will fit in, make a contribution to any social interactions and appreciate what's on offer. Airbnb lets property owners review their guests, so anyone with a bad reputation just isn't going to be allowed to stay. Thu and Mike take this part of the process very seriously. The flipside of this is that if you are lucky enough to get a room, you are guaranteed to have a great stay. (If you are not already a member of Airbnb and would like to receive around $20 USD credit towards your first booking, join up through this link)
The excellent service starts the minute you leave the airport. Phone them from the taxi rank, and the guys will talk to your taxi driver to ensure you get the right price and are delivered to their door in the most efficient manner. If you mention you want to try something, do something, or visit somewhere, they're  likely to throw you on the back of their bikes and take you out themselves, much the same you would with a visiting friend.
Christina's has a mix of 60% short-term tenants booked through Airbnb and 30% longer term. There are no contracts to sign or bonds. But, the maximum stay time is three months. I believe this could be renegotiated, but you really would have to be special and value adding to the household.
I think the reason that it works so well is that the owners and creators of this "baby" are travellers themselves. They understand the importance of interaction when you're on the road and wanted to create a space that encourages that. Mike and Thu plan to build a whole network of Christina's along with a supporting travel system. Trust me; this will change the face of tourism in Vietnam. The whole house is full of creative energy, and it's not hard to believe that this is the start of a new empire.
*Note you can now book directly through their website now (Mar 2017))
Editor's Update: I love it when I'm right. It's just seven months since my first post above. The team from Christina's recently expanded by opening a gorgeous  7 unit studio/loft style building with 'to-die-for bathrooms,' right by Ben Thanh market. They have almost perfect 5-star reviews and are incredibly popular with all their guests. And they are expanding into other locations around Vietnam as well.It appears they have the formula right. Superb accommodation, reasonable prices and lots of care for their guests comfort and well being. The price has gone up a little since the original post, but it's still excellent value. Plans are well underway for more fabulous accommodation in great locations around town but make sure you book well ahead to avoid disappointment.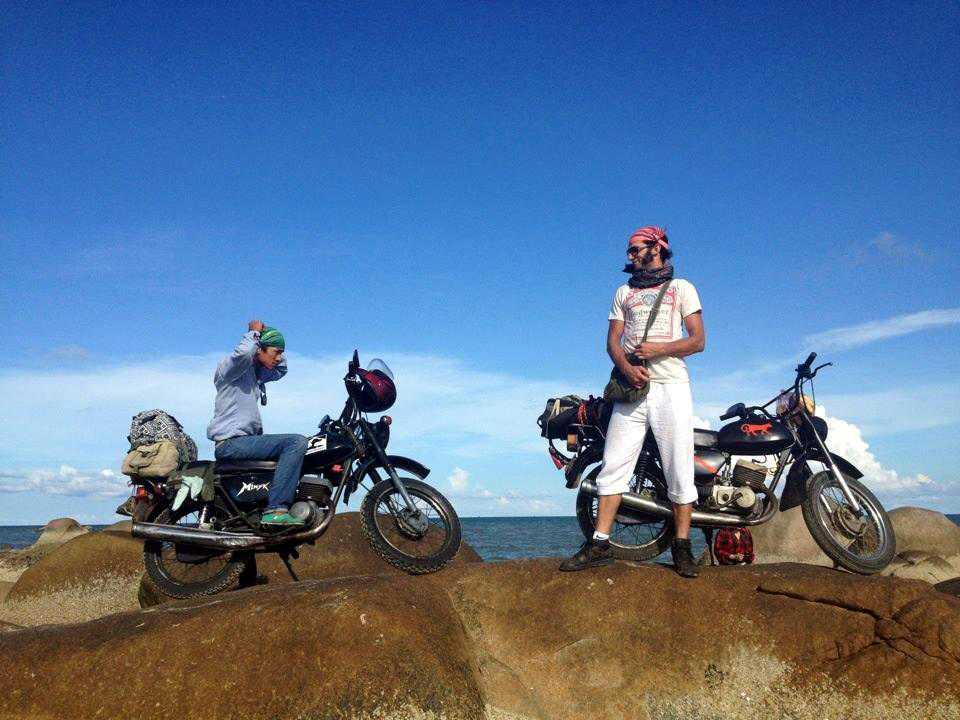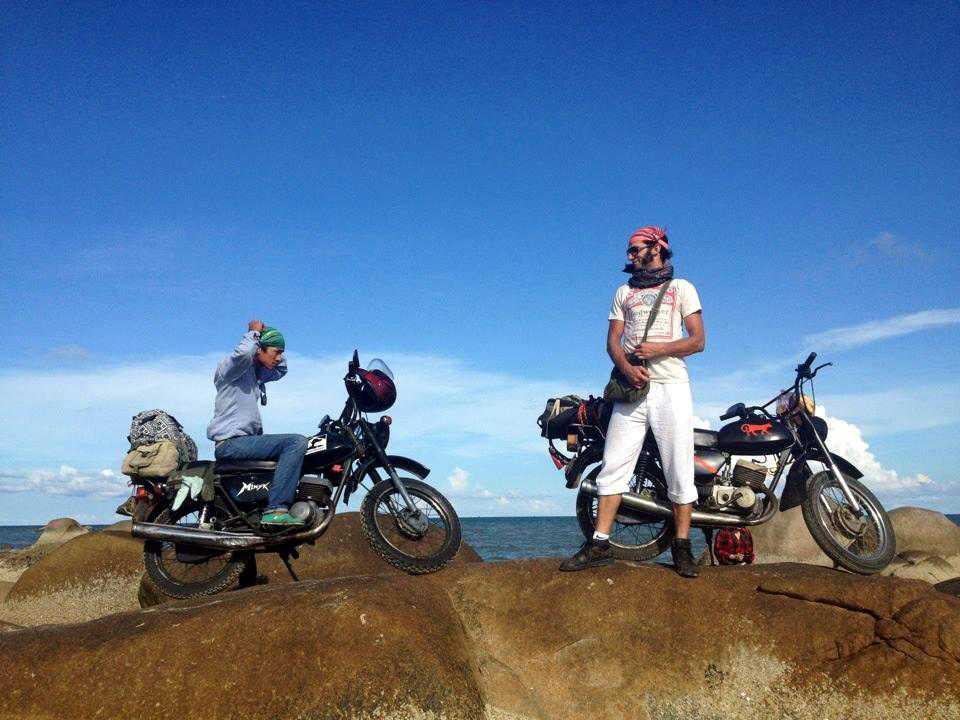 Out on the road making memories.Thu and Mike from Christina's Saigon
Editors Note: Airbnb is a great new concept in booking accommodation, and it's sweeping the world. By joining up through this link, Airbnb will give us credits we can use towards our accommodation while travelling,  AND you will receive $20 USD credit just for signing up. Every time someone joins up; we keep travelling just that little bit further, and they get to stay in awesome accommodation like Christina's Saigon.