The Escape Hunt Experience Ho Chi Minh City
My first foray into a 'real-life' mystery game turned out to be a great experience. At first, I was lukewarm on the idea – trying to predict how The Escape Hunt Experience could transform 'Clue' into a satisfying real-life experience. We were hoping it woud be difficult enough to keep our interest, but not impossible. Being somewhat awkwardly located above Coffee Bean & Tea Leaf, I was skeptical about how it may turn out. However, stepping out of the room after our session (plus a bit of extra time) was completed, I was not disappointed!
For the less-than-obvious location, the atmosphere of The Escape Hunt Experience's waiting room is inviting. Outfitted with vintage furniture (our Vietnamese playing partners remarked 'My Ôngbà had these chairs!'), the welcome room offers a relaxing aura, warm reception, and it made for a great start to our experience.
Groups can range from 2-5 persons – we had 5, which, after the fact, seemed like a great decision. Not only is the price per person cheaper, it enhances the experience to have more friends and minds working towards solving the mystery! We were briefed by our friendly assistant, and were brought into our room to begin the hunt. Each team has 60 minutes to solve their mystery. There are 3 separate rooms, each with their own plot. You are able to choose which of the 3 game rooms you'd prefer to complete. Each team will have one assistant ('game master') to help them throughout the experience. Teams are allowed to ask for hints, but it incurs a penalty on your time. Your game master waits outside the room, and will appear immediately for help if you call them during the game.
Without divulging too much detail, our goal was to find the culprit of a murder that had taken place in the Independence Palace. The room in which our mystery took place was well-put together. With a good setting and an intriguing story, it made us believe that our context was something that could have actually taken place – a murder of an assistant in the palace in Old Saigon. This city is not estranged to intrigue, mystery, violent rivalries, and gossip. With this in mind, the game is well-suited for this city, maybe more so than in its other Southeast Asian locations. The clues ranged from numerical and linguistic patterns to good old-fashioned letters and written notes. The hints are hardly obvious for a first-timer, although I'm sure with more experience, it becomes easier.
Each of us in our party contributed at some point – sometimes by mistake! It is best to divide and conquer, as some hints may be more obvious to some, and a healthy amount of just 'looking for things' is needed around the whole room, throughout the hour. One element that extends the game is the number of steps that you need to complete it. There were about 15-18 steps needed from start to finish. I'd be lying if I said we did it all on our own – we asked for a few hints along the way that were crucial for us to solve the mystery, but it hardly detracted from the overall experience to 'concede' in asking for help. Even with 5 minds working together, we were stumped fairly early on. After the fact, we figured our understanding of how the game and clues worked, we'd be better the second time around.
We had our share of mental blocks, but when debriefing over the complementary tea after we finished, it was easy to see that the enjoyment wasn't just in solving the mystery, but in working through the clues and questions together. Overall, it was a great experience. As I mentioned before, bring 5 rather than 2 (for economic and enjoyment purposes), get sucked into the mysteries, and work together to solve the crime!
The service was exceptional – clear instruction, professional communication via email and in person, productive hints, a friendly atmosphere, and Sherlock Holmes-style photos after the fact – couldn't ask for more! For obvious reasons, they will rotate through different mysteries, change certain details, and verify that you haven't been there or done them before. This keeps it interesting for the returning players! For a short-termer or tourist, it's a fun activity that gives you a small glimpse into the character and past of Saigon. For the long-termer, it's challenging and entertaining, and can be a good weekend outing or something on the list when visitors come. Give it a try!
Details:
The Escape Hunt Experience – Ho Chi Minh City
Opening Hours: 09:00 to 21:00 everyday
Address: Level 2, 60-62 Cach Mang Thang 8 Street, Ward 6, District 3, Ho Chi Minh City, Vietnam – (above The Coffee Bean & Tea Leaf, at the crossroads Cach Mang Thang 8 Street and Vo Van Tan Street)
Phone:+84 (0)8 6290 8698/ +84 (0)8 6290 8829, from 09:00 to 21:00, 7 days a week FOR BOOKING!!!
BOOK IN ADVANCE FOR THE BEST DISCOUNTED PRICES …
Email: hcmc@escapehunt.com
Website: http://hochiminhcity.escapehunt.com/
[mapsmarker marker="51″]
About the Author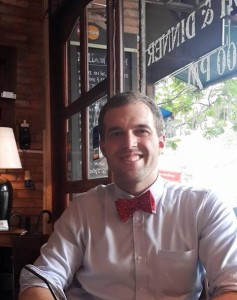 A former Project Manager from Saint Paul, Minnesota, Keith lived in the Philippines for several years before moving to Ho Chi Minh City. He currently teaches English to students of all ages for a number of organisations. In his spare time, Keith is out and about, actively exploring all the amazing things Ho Chi Minh City and Vietnam have on offer. His favorite quote is "Happy is the Man who is grateful." and applies this to the way he approaches life.
"Happy is the Man who is grateful."
Note: I do not receive any payment for this post (or any others on the site for that matter!). I do receive a small amount of money by allowing advertisements on the site and any purchases made through those links.