Bonsai Saigon River Cruise – Resurrection!
Bonsai is Back!!!
It's my great pleasure to announce that as of April 2017, Bonsai Dinner Cruises has a brand new boat, "The Bonsai Legacy," and is re-open for business. I often get queries from my readers about which night cruise they should go on and it's been frustrating in Bonsai's absence because they really are the best. So I stoked that they've come back bigger and better after their very unlucky accident two years ago.
(For those that don't know, a Japanese cruise liner broke its mooring and smashed into the original Bonsai and it's sister boat Artisan Cruises while they were docked. The freak accident put them both out of business for over two years, through absolutely no fault of their own.)
Launch Offer: Mention the code HCMCH – Bonsai and get a 5% discount on your ticket price. You can make a booking by emailing SALES@BONSAICRUISE.COM.VN.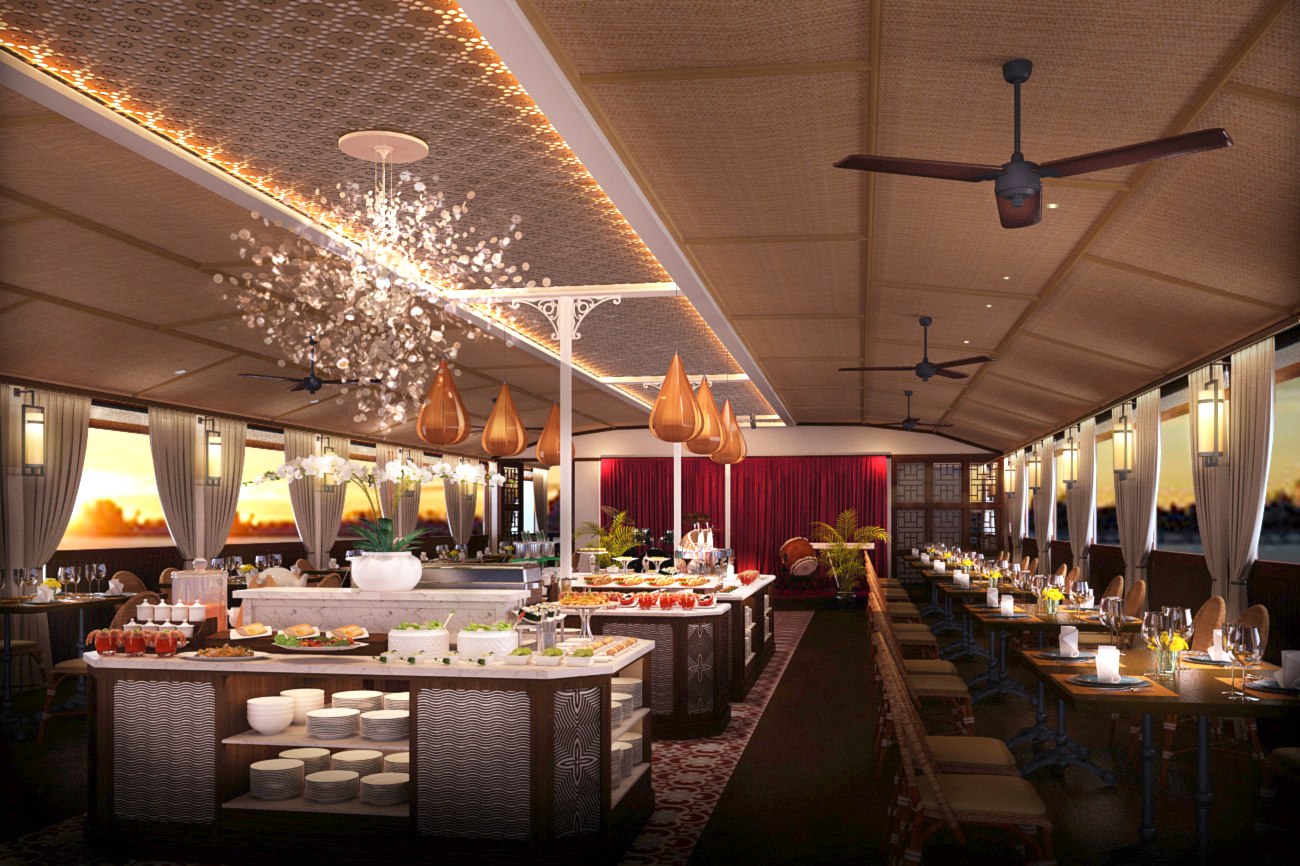 Photo Courtesy of Bonsai River Cruises
Take a look at my original blog post below. So far I've only been on the new Bonsai Legacy as part of their recent press launch, but the details and experience remain the same, except everything has shifted up a notch in terms of overall value. I'll be heading out for the whole Saigon River Cruise experience in the next month or so so I can get some up to date pics and update the info on the post.
From what I've seen, you'll be impressed by the attention to detail and exemplary service from the moment you board their gorgeous new dragon boat. It's hard to believe, but this boat is even more beautiful that their previous one, and as the Saigon skyline evolves, the views get better in turn. From the hand carved details, to the innovative buffet setting, excellent wine list, and different entertainment options, everything is perfect for a romantic dinner for two or a sophisticated night out with friends. This daily dinner cruise is truly a 'one of a kind' in Vietnam.
One of the highlights of your dining experience will be the open kitchen and interactive dining stations where guests can circle and mingle around them, instead of forming one long line. The Bonsai team is dedicated to using only the freshest, locally sourced organic produce and ingredients. The creative force behind their new menu is Steven Long – runner up of Top Chef Vietnam in 2014, so you know the food will be excellent.
If you get there before me then let me know what your experience was like in the comments below.
Sharyn
Original Post:
You can see it; you just don't seem to be able to get there. That was my first thought as the taxi driver turned in the opposite direction as we neared the wharf where we would board the Bonsai for our Saigon River cruise. Don't worry, it's not a taxi scam. If you've followed my tips here on scam free taxi rides in Saigon, you'll be in a Vinasun or Mai Linh, and the driver knows exactly where he's going. The problem is they can't turn left across the traffic and have to go back around and under the bridge you just came across to access the right street. Even with the detour, a trip from downtown District 1 won't cost you any more than 30 000 VND ($1.50). It's about 50 000 VND ($2.50) from the backpacker end of town. If you don't want to take a taxi, it's about a 20-minute walk from the centre of the city. Make your way down to Ton Duc Thang (the road along the river) and cross to the water side. Turn right and head for the bridge leading to District 4. You should be able to see the hulking Chinese junk, "Elisa" on the river. That's your destination. Be careful crossing the road to reach the river side of the bridge. Walk across, and you will see the wharf area just up past the Ho Chi Minh Museum on your left.
If you arrive early there are a couple of places at the wharf where you could sit and have a drink while you wait. Our first glimpse of "Bonsai" was impressive. She's a beautifully restored Chinese Dragon Boat and was lit up like a Christmas tree which really brought out her finer points. She's totally dwarfed by the neighbouring hulk, Elisa, but is eminently more beautiful. And… She can move, which is one of the main reasons why we were going. The Saigon skyline is evolving rapidly, and it was high time we checked it out. As we boarded the boat up the gangplank, we were greeted by an elegant hostess in traditional Ao Dai, who ushered us to our table. All the tables have great positions and are close to an open plan kitchen, not far from the stage area, and with unhindered access to river views. We were presented with a choice of complimentary pre-dinner drinks (alcoholic or non-alcoholic.) and a plate of canapes.  Traditional (but tasteful) music played in the background.
Tim wandered about, taking pictures of the boat while I surveyed the other passengers. They certainly were an international mix. There were quite a few tables of Asian Tourists, Europeans, Middle Eastern and Australians of all ages, including a couple of children. Cruising obviously has broad appeal to visitors, and we seemed fully booked. The boat cast off right on time and no sooner had we cast off than the performance began. The initial welcome announcement was made in Vietnamese, English, Chinese, Spanish and Japanese from what I could make out. These guys were obviously well practiced in playing to an international audience. You are not allowed to film the performance so I can't show you any of it.  But take my word for it. The show was extremely professional, quite eclectic and very beautiful. This was especially true of the traditional dancing. There is something so very elegant about a beautiful Vietnamese girl in a traditional Ao Dai. I think it's one of the most iconic national costumes in the world. During the evening, the dance routines were interspersed with the dulcet tones of three local performers crooning everything from George Michael to Tina Turner. More on that later.
Because the boat has open sides, even the slow pace we were traveling at was enough to create a pleasant breeze, accentuated with fans, discreetly placed above the tables. We had great weather, but I don't think the boat would do much rocking, even in the wildest weather. That's a good thing if you're prone to seasickness as I am. The first part of the cruise isn't that spectacular as you sail past the port area, but I barely noticed as I was focused on the performers. As the boat turns around and heads for the city, you begin to appreciate what Saigon by night has to offer. It's definitely no Hong Kong, but the Skyline is evolving. The changes since we were here in 2012 are very noticeable. I wonder what it will look like in 5 to 10 years. A former Queensland Premier, Jo Bjelke-Peterson, used to gauge economic growth via his "crane-ometer". That is, the number of cranes on the skyline. Using that measure, Ho Chi Minh City is doing just fine, thank you very much.
Bitexco Financial Tower hovers above everything else, but some of the other buildings muscle in on the action with spectacular light displays. As you cruise along the esplanade, old colonial favourites like The Majestic, vie for pride of place in your viewfinder. Another sign of the times is the massive display of LCD advertising billboards, right on the edge of District 2 (facing the central part of District 1). The tower blocks of ritzy District 2 hover in the background. There's not a whole lot of development between the two at the moment, but I'm pretty sure, judging by the rest of the city that's not going to last too much longer.
INSIDER TIP: Not long after you pass by the other neon-lit River Boats berthed at the wharf on your left in District one, take a trip to the loo and peak through the window. I think it was one of the best views of the night with the porthole framing the lights. OK…Since it's a dinner cruise, I'd better report in on the food. In short…YUM! Something for everyone. There are the usual Vietnamese favourites, Pho, Banh Xeo, spring rolls, etc., but there's also a large range of international cuisine. Delicious satay, German (or maybe Austrian) sausage, sushi and a wide variety of salads. INSIDER TIP. Leave room for dessert. Along with the fruit salad, mini pastries and various cream custards, there's the most divine strudel served with sweetened cream.
Now, back to the performance. I didn't realize at first, but there was a magician wandering the crowd wowing them with his sleight of hand. He was getting a rousing reception from the group of lads up the front. The dance troupe went through various incarnations. One moment they were performing traditional stick jumping that invited group participation (watch your ankles!). The next, they were belly dancing to Shakira (all right lads, eyeballs back in and tongues off the floor please!). They even whipped up quite a bit of shimmy to some funky African beats…. And yes, there's always one dude in the crowd who wants to be the centre of attention! He was very enthusiastic but thankfully harmless, and the rest of the crowd loved him. The band varied between traditional instruments such as xylophone made of rocks (Vietnamese Fred Flintstone!); to rockin' out with some classic like America's "Horse with no Name" and Boney M's, "Rivers of Babylon"…That last one got the boys up the front going!
Throughout the evening the very attentive, yet discreet, staff made sure we were well looked after. They  filled empty glasses and whisked away empty plates pronto, which is a bit of a novelty here in Vietnam. One of the lovely ladies even noticed my pens had stopped working and presented me with hers. Bills were sorted by 9 pm. The food and performance are included, but drinks are extra. The drinks menu is quite comprehensive and quite reasonable by international standards. The wine list has a good range, including selections from Vietnam, South Africa, Australia, Italy, France, Spain, Chile and Argentina. We chose the house wine, Two Oceans, a fairly decent South African soft, fruity Red for around $25. Beers were around $3-$4, and along with the usual selection, they also have a couple of very nice German beers on the list. Cocktails are about $6 and include Singapore Slings, Long Island Teas and "Saigon River Water!!!" A quick read of the ingredients (Bacardi, rum, orange, lime and grenadine) reveals it would taste a whole lot better than the name suggests. The music played to the very end, and we arrived back to the wharf right on time at 9.15.  It had been an incredible evening, and there was still time to party if that's what takes your fancy. There is a couple of good live music venues in District 4 and just about everything you can think of back across the river in District 1. If you have the time, you could make an afternoon trip to the HCM Museum just up the road, come down to the wharf for pre-dinner drinks, and then board Bonsai for a very enjoyable dinner. Afterwards, head to the Cargo Bar to see what's playing before wandering home to bed. Thank you Bonsai River Cruises for one of our most pleasant evenings out in Saigon to date.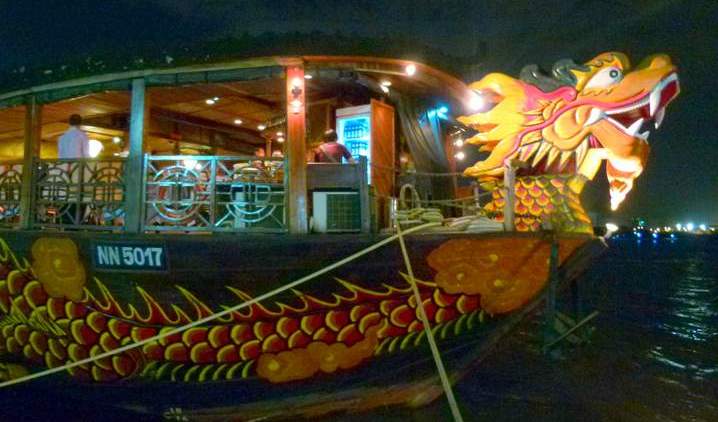 Details:
Where: Bonsai Cruise is docked daily at Saigon Port, 05 Nguyen Tat Thanh Street, District 4. Secured car and Motorbike parking is available next to the docking spot.
When: Every day. Boarding at 6.45pm, Sail at 7.15pm
How much: 45 USD/Person (includes 5% service charge). Drinks on board are extra. Settle the bill in cash prior to disembarking.
Launch Offer: Mention the code HCMCH – Bonsai and get a 5% discount on your ticket price.
Where can I book? Bookings can be made by emailing SALES@BONSAICRUISE.COM.VN or calling
HOTLINE & RESERVATION
MON – FRI:
08:00 – 17:30
+84 8 3620 6265
SAT – SUN:
+84 (0) 918 600 506
+84 (0) 918 100 506